REAL ESTATE BROKER CALLS NETWORKING, FLEXIBILITY KEYS TO SUCCESS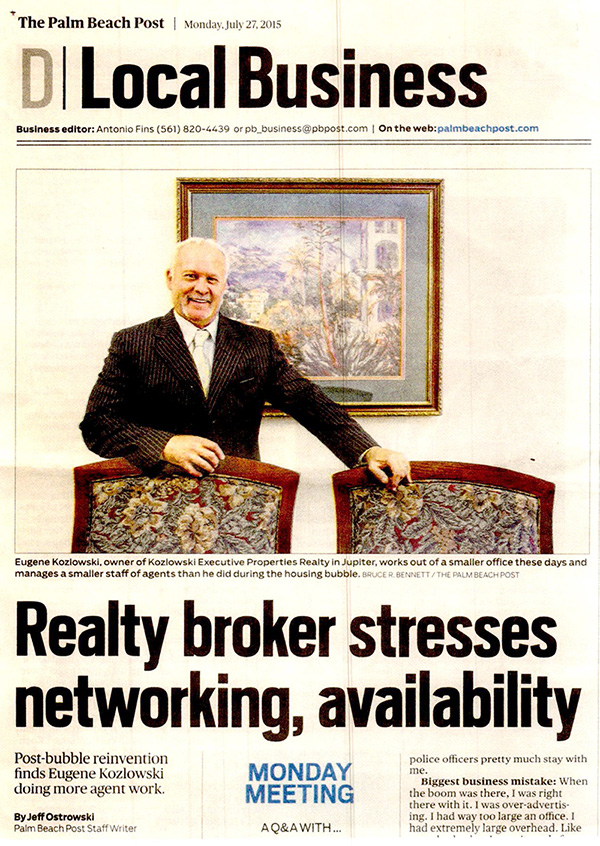 By Jeff Ostrowski – Palm Beach Post Staff Writer
Posted: 12:00 a.m. Sunday, July 26, 2015
JUPITER — During Palm Beach County's real estate bubble, broker Eugene Kozlowski had 50 agents and focused his efforts on managing his company.
Now, Kozlowski Executive Properties Realty has shrunk to 14 agents, and the company owner splits his time between managing his firm and selling homes.
"If you wanted to stay in the business, you had to reinvent yourself," Kozlowski said. "I've really become more of an agent than I've ever been. But there's never a time when I'm not accessible to agents — never. That's the difference between a small company and a big company. I'm always available to my agents."
Name: Eugene Kozlowski, owner of Kozlowski Executive Properties Realty in Jupiter
Hometown: South Orange, N.J. Now I live in Palm Beach Gardens.
About your company: We have 14 agents. We do quite a few rentals, and we also work with investors and everyone from first-time buyers to high-end homes. I wish I had a niche I could describe. The reality is it just doesn't work that way. I just sold a client's home for $655,000. I'm focusing on higher-end properties, but you have to be all over the place. You have to be versatile. First-time buyers, high-end homes. Everyone's got a different split in my office. It's anywhere from 70 percent to 90 percent.
How your business has changed: From 1999 through 2003, those were normal, stable years. Then we had a buying frenzy in 2004, 2005 and 2006. People who really shouldn't have gotten loans received them. Then in 2008, 2009 and 2010, there were many short sales and foreclosures. That has kind of fallen by the wayside — foreclosures aren't even half what they used to be. Now we're getting back to a normal market. We're starting to see lateral movement again. People are moving from Gardens to Jupiter, and we're also seeing a lot more snowbirds from the Northeast moving here.
First job: I worked at Bennigan's to pay for my tuition at Florida Institute of Technology in Melbourne. I started taking classes in real estate and I just fell in love with it. Later, I worked as a police officer in the town of Palm Beach. I sold real estate concurrently with police work. Police officers are great clients — they're true and blue. All the police officers pretty much stay with me.
Biggest business mistake: When the boom was there, I was right there with it. I was over-advertising. I had way too large an office. I had extremely large overhead. Like everybody else, I wasn't ready for the downturn. I had a place in Donald Ross Village with 50 agents at one point. It almost put me under. Now I have a small office in Jupiter. Most Realtors are able to do most of their work from home. I'm keeping a smaller office with a smaller overhead.
Best business advice you've received: Treat your clients as you would treat your own family.
Most important trait you look for when hiring: The key to the modern Realtor is always answering the phone, and proper Internet advertising. The biggest buyer or seller complaint is that agents simply do not answer the phone directly or follow up quickly enough for the client's liking. I feel most successful real estate agents spend very little time in the actual office. The days of walk-in traffic have diminished due to Internet advertising and valuable information offered online to the clients. The office is mainly used for meeting clients and closings. I encourage my agents to constantly network, talk to everybody. Real estate, in general, is a universal topic. Everyone you speak to knows someone who is looking to rent, buy or sell a property.
Source: myPalmBeachPost.com